Just a few days after Hurricane Ian whipped 75 mph winds across the Lowcountry, Sonja Zindars arrived at Folly Beach with a high-powered computer strapped to an ATV.
She supervised a male technician, who drove the four-wheeler up and down the dunes, making sure he was surveying enough of the sand to know how much it had changed since Ian swept through.
"The military has the best toys," joked Zindars, a geographer for the Charleston district office in the Army Corps of Engineers. She spoke with The Post and Courier about why she remains dedicated to her work and the Corps.
"I have a boots-on-the-ground job," Zindars said. "That's how I see it."
Zindars was out on the dunes that overcast October day to understand just how much sand had eroded from that beach. Any forthcoming federal beach renourishment projects will need to add the right amount of sand, not too much, not too little, she said: "Because it's all about storm protection."
Zindars was the only female scientist on site that day on Folly Beach. Working for the Corps, that's nothing new. 
The Army Corps of Engineers has a diversity issue.
The ratio of women to men who work at the 200-year-old military division has stagnated for over a decade. The percentage of women in the service has remained at 32 percent since 2010, according to a 2021 report by the U.S. Government Accountability Office. The percentage of Black women has dropped during that same period. 
At the Charleston office, things are slightly better. Women make up about 37 percent of the staff. More than a third of all supervisors, who manage the office's 250 employees, are women. 
The Post and Courier spoke with three Army Corps scientists, all at different career stages, to better understand the problems that underlie the division's gender imbalance. 
Whether early in their career or nearing retirement, women at the Charleston office of the Corps are frustrated.
Getting women in the door
Carole Works is the first female chief of the engineering division at the Charleston office. She sees inspiration as key to recruiting more women into this line of work. And she thinks it all needs to start much earlier than college.  
"We're going to Ashley Hall again (this year), and the last time we went there, we met with 11th and 12th graders, and their minds were already made up," Works said in late January. "We were not convincing them in a one-hour visit about how cool engineering is."  
On Feb. 23, the Corps hosted another engineering recruitment event at the all-girls school in Charleston. It coincided with "Introduce a Girl to Engineering Day" and, this time, the Corps targeted younger students: seventh and eighth graders.
New research confirms Works' hunch. Reaching kids when they're young is the best way to dispel culturally ingrained stereotypes. One study found that kids as young as 6 begin to believe false stereotypes that boys are more interested in STEM than girls. STEM is a popular catch-all term for science, technology, engineering and math fields.
Stereotypes alone can't explain a century of gender imbalance within America's oldest institution devoted to engineering, which employs 35,000 people nationwide and abroad. 
The Corps has trouble recruiting female engineering majors from local universities with engineering programs, including The Citadel. Over the past few years, women from the Charleston office have visited local K-12 schools to try to inspire girls about the work that the Corps does. 
"When we put out new intern positions, it's certainly not 50/50 … women to men," said Works. "For every two guys that apply, there's been one girl." 
Private engineering firms can offer starting salaries more than twice the amount the federal government can offer to new hires with engineering degrees. 
"For the poor kids coming out of school, they look at what I can offer, and they're like, 'Are you kidding me?'" Works said. "That's absolutely our biggest problem but, as the federal government, I don't see that changing any time soon."
Works said that the Corps is significantly more diverse now than when she started working there in 2012. "The Corps does a great job at promoting women … once they're here," she said. 
As the top engineer at the branch, recruiting women is her biggest frustration. 
Hurdles early on
Molly Holt started working at the Charleston district office one month before the U.S. pandemic lockdown. She's still somewhat new to the Corps but not to engineering. Holt worked in the private sector for eight years. She was attracted to the Corps' mission: serve her country as well as her local community. 
"What the Army Corps actually does is not widely understood by a lot of people," Holt said. About 98 percent of the workforce are civilians. And, as someone still in her 20s, she often helps the Corps recruit other young people by participating at university career fairs around the state. She tries to dispel misconceptions that prevent undergrads from considering the Corps as an option.  
"People assume that if they come over to the Army Corps table then they have to sign on the dotted line and join the Army right there," Holt said. "I have to explain that, yes, we do work for the Army … but the majority of us are civilians. We also get to work some on the biggest challenges facing our state."
Holt is frustrated by how many math-inclined women she met in college gravitated to the medical field because, she believes, they didn't have a sense that engineering was an option.
"Maybe it's a lack of awareness," Holt said. "Some of my female coworkers now, they had family members that were engineers and they got to see firsthand what engineers do. That makes a difference."
Holt has a clear conviction that her work at the Corps makes a much bigger impact than her corporate job did. She said her path to engineering and federal employment was "following (her) heart." 
There was another thing different about working for the Corps: She would be required to take a grueling licensing test, the principles and practice of engineering exam. The eight-hour test is typically taken after four years of "field experience," and it's a follow-up to a similar exam that many take before entering the workforce, usually around graduation. 
"The further you get out from school, the more challenging (the second exam) gets," Holt said about completing the second test.
Holt didn't pass the test on her first time. She studied for almost two years. And her experience is not unique. 
Women in engineering are almost 12 percent less likely to pass this license exam. A 2018 study suggested that the reason may partly be due to "biases in the exam itself."
Passing the exam usually comes at a critical time for women, during their mid to late 20s, when many are considering family life, or may already have children, and are seeking work-life balance. It remains a hurdle that the Corps has yet to address. 
"Usually when we come in (to schools), we're trying to make it sound fun, we're trying to get them excited about it, so we don't want to tell them about the eight-hourlong test that's really, really hard to pass," Works said. "But maybe we should." 
'Just using the restroom'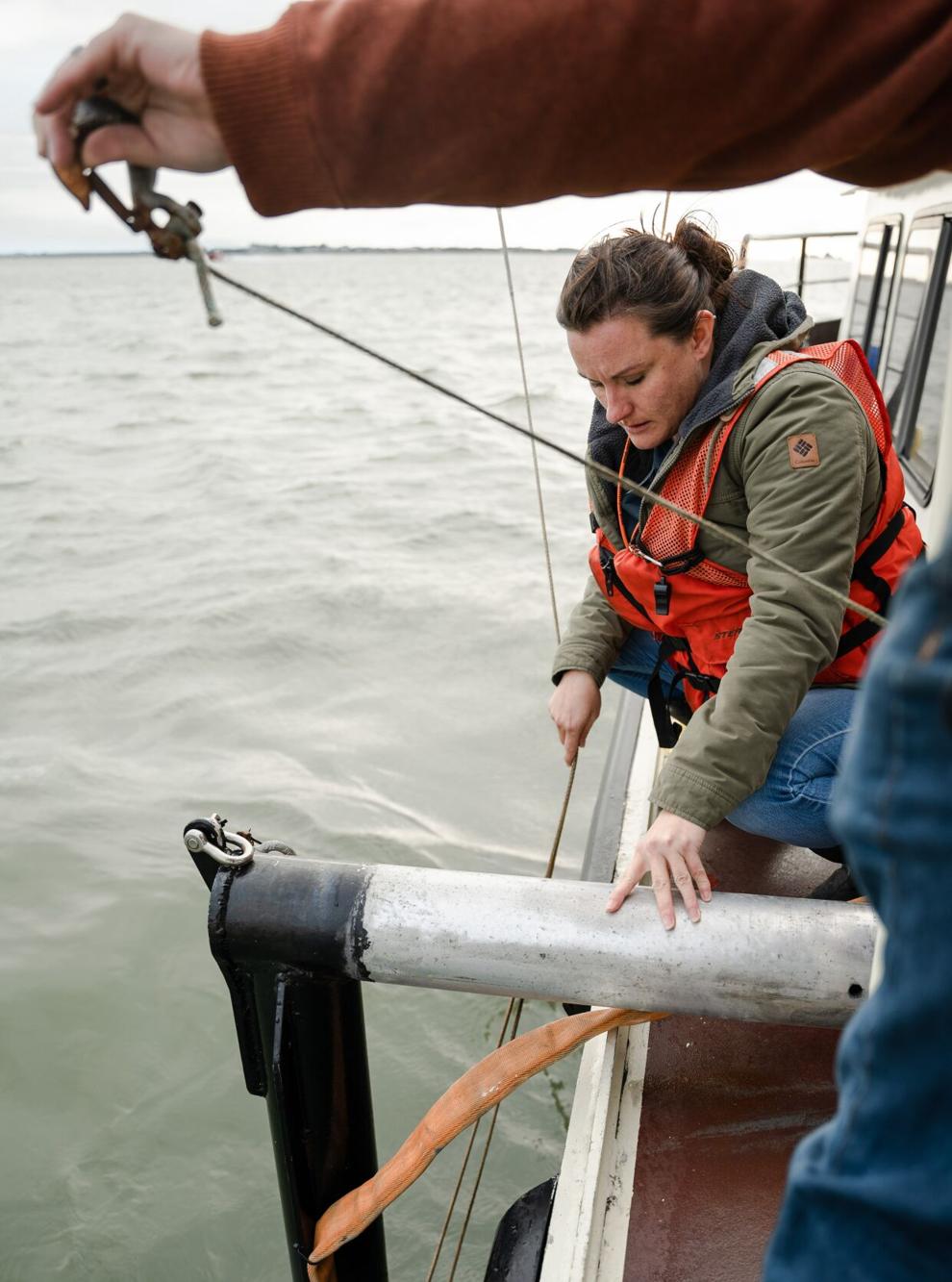 Zindars has spent most of the past five years mapping the dredge activities that made the Port of Charleston the deepest on the East Coast, going from 45 feet in depth to 52 feet. She spent over 350 days out on the water — calculating the volumes of material that were being removed from the sea floor.
And she's proud of it: "I love my job, I really do."
Zindars was often the only woman out with men on daylong surveys of the channel. "The field I'm in is definitely a male-dominated field. In the eight years I've been at (the Corps), there has only been one other female … join our survey section."
"Being on the boat … as a female, just using the restroom creates certain obstacles," Zindar said.
She talked openly about menstruation, and how that complicates working on a boat for 10 hours a day with men.
"The guys we work with are great, … but it's hard to get women from the outside to come do this work," Zindars said. The Corps is working to nudge more women toward it. She even serves on hiring committees for other Corps offices in the Atlantic region to try to build what she calls "a sisterhood."
Diversity scholars view this as building toward a critical number of female employees, a kind of threshold, that — once passed  — women feel less alone and generally more accepted.
Women sometimes self-select themselves out of this line of work, Zindars said. She is rising in the Corps' ranks now, advancing to roles where she supervises others. Still, she's frustrated by a lingering negative stereotype, absorbed by both women and men alike. 
"There's always something underlying," Zindars said. "That you can't really do the job the same way as a man." 
Making SC 'more resilient'
What the Army Corps lacks in salary offerings to women, it tries to make up in workplace satisfaction. 
"We're trying to make our state more resilient," Holt said about her storm protection work in the engineering division. 
The Charleston district's federal projects include post-storm beach renourishment at Myrtle Beach, Pawleys Island and Folly Beach. These multi-million dollar projects try to reverse the beach-shrinking effect of storms by pumping in sand from just offshore. In the short term, maintaining a recreational beach protects property and bouys tourism in South Carolina. 
On Mar. 2, the district announced that it received an additional $97 million in federal funding for this work, which includes adding "approximately 150,000 dump truck loads" of sand to Myrtle Beach sites to counter erosion from Hurricane Ian. Other towns have experienced erosion from back-to-back storms, like Folly Beach. That popular beach destination will soon receive the equivalent of 90,000 dump trucks of offshore sand.  
Last week, the Corps signed a new partnership agreement with the town of Edisto Beach. Federally funded, Corps-led projects will begin later this year, with sand being added from offshore and dune-stabilizing plants being planted to halt erosion. Holt designed and now maintains the restored dune plants of Pawleys Island, work she finds especially rewarding.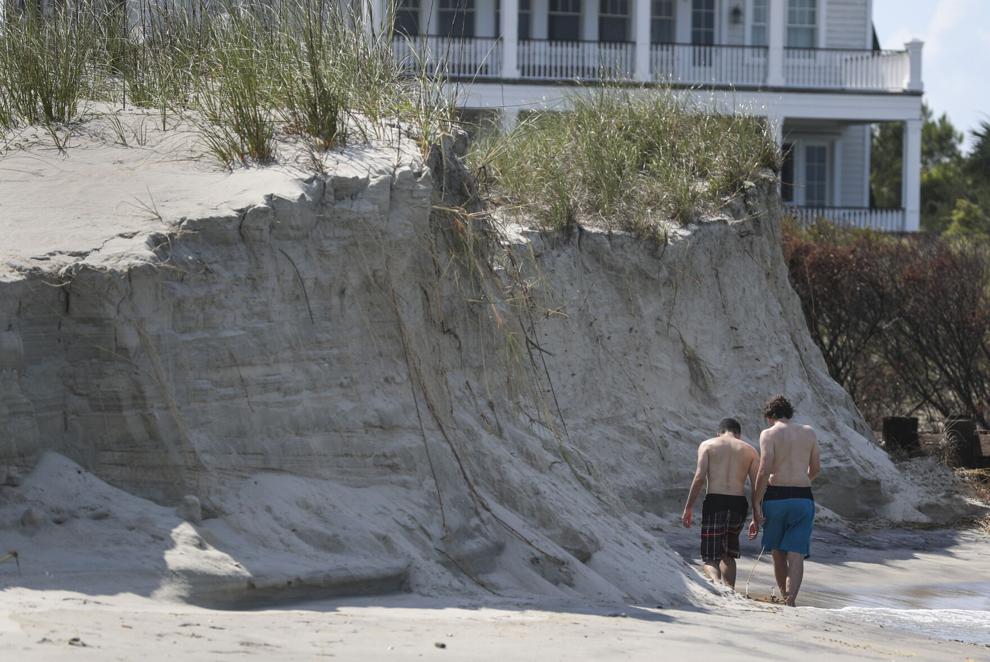 "It's cool to be able to see your work show up right where you live … and you see all the people in your community that benefit," Holt said. "If people could just see that side of it, they would be more interested in engineering." 
What is still up for debate is whether the Corps' work is actually making South Carolina's coastal communities more resilient. Some say the costly beach renourishment projects are only delaying the inevitable change of the coastline.
There is no scientific consensus that beach renourishment is an effective long-term solution to increasing hurricane intensity, South Carolina's newest climate burden.
And sometimes solving one problem creates another one. The Post and Courier reported that residents living near Pawleys Inlet brought a lawsuit against two state agencies and others last year claiming that the Corps-led beach renourishment led to severe flooding on the inland areas.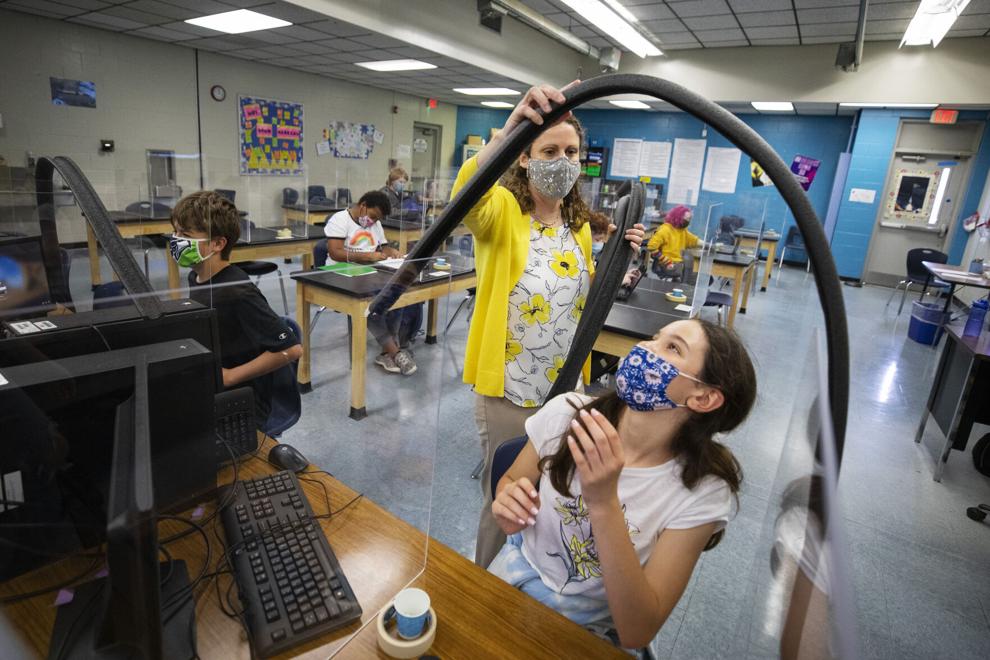 Eyeing the next generation
In the short term, there are plenty of federal funds to engineer short-term storm relief solutions — just not enough women to do them.
But the Army Corps' gender gap is actually smaller than in some other sectors. According to a study by American Association for University Women, of both the private and public sector, only 27 percent of America's STEM workforce is made up of women. 
For women who want to be paid as much as their male counterparts, there's no better place to work than the federal government. In 2017, female federal employees earned 93 cents for every dollar that men did. A 2020 government report found that the wage gap has narrowed by 12 cents since 1997. 
The pay gap continues to narrow. But other factors can drive women away, even when paid fairly. Studies show that women who experience sexual harassment are more likely to leave their jobs. In STEM fields, up to 58 percent of academic scientists report being sexually harassed during their career. 
According to Works, the chief of the engineering division, there have been no sexual harassment cases during her 12-year tenure at the Charleston office. When asked to verify this claim, a spokesman for the Corps told The Post and Courier that "we are unable to comment on personnel matters. We can tell you that our district is the second-smallest district in the (Corps) and has been rated 'a world-class workplace' two years in a row by employee surveys."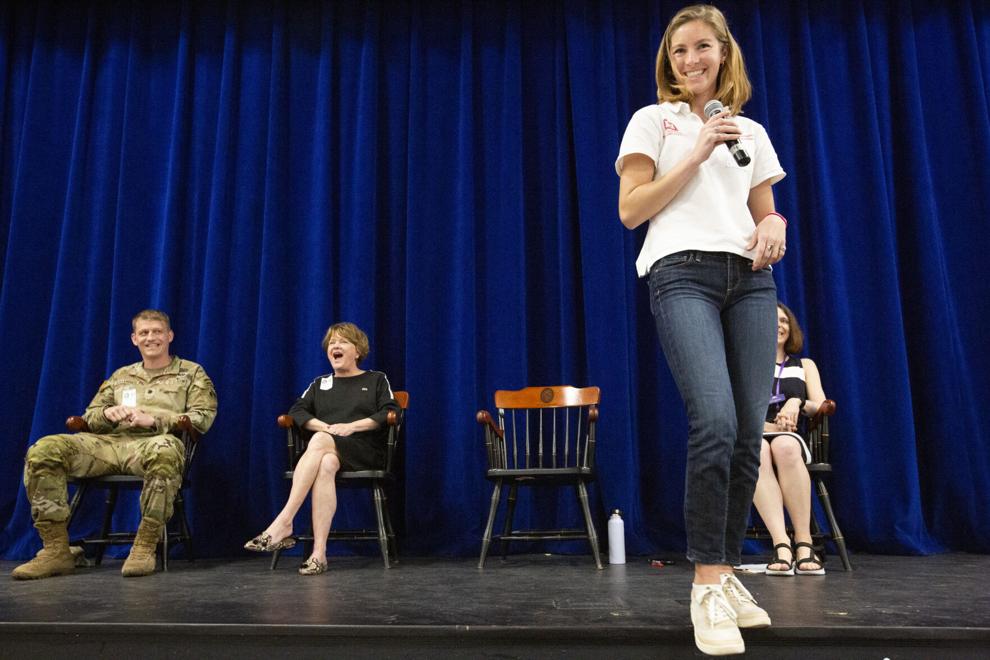 Works recently attended the now-annual STEM recruitment event at Ashley Hall. Over 200 girls were there, smiling and laughing for much of it. 
Bailey Horn, a geographer for the Corps and an alumna of the school, walked around the auditorium with a microphone. "Who wants to go into a STEM field?" she asked. About six hands went up. Horne was there to show that this kind of work is an option, and to try to get more girls to raise their hands. 
To show off that work at a relatable scale, a representative from the Army Corps brought a model-scale beach and led an activity to show how different kinds of materials affect beach erosion. The girls gathered, in their purple plaid uniform kilts, and asked questions.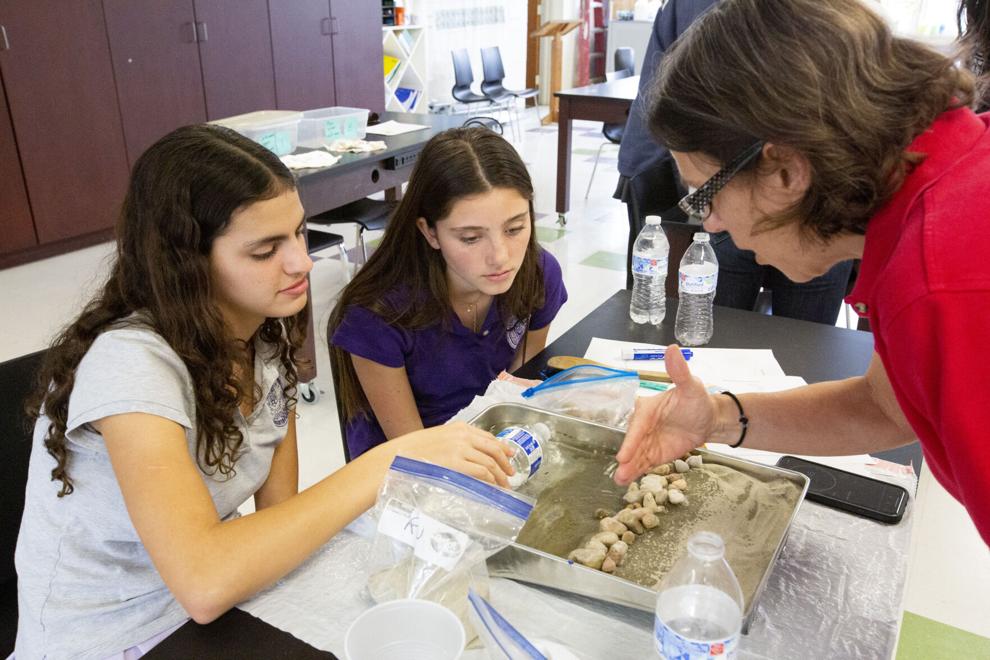 There were other federal agencies in attendance, including the National Oceanic and Atmospheric Administration and the Air Force, helping girls understand how each agency uses engineering to protect and serve the country. 
Alina Scott, an eighth grader, was particularly interested in learning about the Coast Guard and also aviation.  
"They kind of gave me this motivation," said Scott after the even. "And now I feel more confident. I feel like there are people rooting for me."
The women who work at the Corps are most certainly rooting for her.